NOTE: Clicking on any of the images below will take you to an enlarged view.
---
The Osborne 1 portable personal computer, open and ready for use. The screen unit fits into slots on the keyboard unit. The 5-inch diagonal screen (that's 3 x 4 inches!) displayed some 60 print columns and the software allowed left-right shifts to see the entire 80-column line. This model had dual floppy drives, and an 'internal' modem in the left hand disk storage slot. The modem is connected by a short jumper cable to the cabinet and has a conventional modular RJ-11 telephone plug. The socket on the right could provide (with an adapter) an NTSC or standard TV monochrome signal to drive a (larger!) external TV monitor. A RS232/serial port connector is found just to the right of the modem connector on the left side of the chassis. This can be used for connecting a printer. To the right of the RS232/serial port is an IEEE488 (also known as GPIB) port used to control some early printers as well as early lab equipment. A connector to the far right of the front panel (to the right of the reset button) is to support and external battery.
The Osborne computer was marketed with a user-friendly User's Reference Guide by Thom Hogan & Mike Iannamico.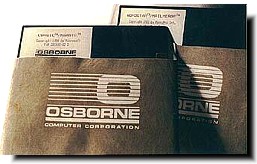 Osborne computer software disks that were distributed with the Osborne hardware. The Osborne computer was marketed with a bundle of software which included CBASIC, MBASIC, dBase II, WordStar, CalcStar, and MailMerge. Since each computer manufacturer used a proprietary disk format, it was necessary to buy software specifically for the particular brand (and sometimes the model) of microcomputer.
The Osbourne Comm-Pac User's Manual accompanying computer software for the Osborne computer.
An Osborne 1 Computer Specifications Sheet. This early entry into the area of 'portable' computing weighed in at a sprightly 26.2 pounds, and was powered by the popular Z80A processor, running at 4MHz. For comparison, a variant of the Z80 is currently used in many graphing calculators.